EVENT
Hong Kong Democratic Movement and the Milk Tea Alliance on 18th May, 2021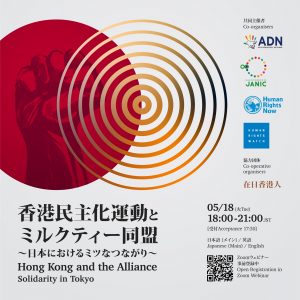 Since the Hong Kong National Security Law was passed, people in HK have not been allowed to go on demonstration nor enjoyed freedom of speech.  However, people in the world do not forget that the HK people are still fighting against the China-baked HK Government for protecting democracy and freedom.
Asia Democracy Network (ADN) started the HK Solidarity Campaign by holding solidarity events in major cities in Asia such as Jakarta, Seoul, Kuala Lumpur. and New Delhi.  In Tokyo, JANIC along with Human Rights Watch and Human Rights Now are organizing  a virtual solidarity event on the 18th of May.
This event is to raise awareness of the importance of democracy and human rights and to discuss what people in Japan can support the afflicted people in these countries and areas. So please join this solidarity event in Tokyo.
———————————————————————————–
Hong Kong International Solidarity Event in Tokyo
Hong Kong Democratic Movement and the Milk Tea Alliance
Connections thru "Sweet" in Japan
DATE

May 18th (Tu), 16:00 to 19:00 BKK (18:00 to 21:00 Tokyo)  

Registration Link

https://zoom.us/webinar/register/7916195103567/WN_56HYL3m0QVaDwvtc_09-Cg

Deadline

May 17 (Mo)

Fee

Free

Language

English and Japanese Simultaneous interpretation provided

Program

[First Session]

・Opening Speech:
Mr. Ichal Supriadi (Secretary General, Asia Democracy Network)

・Video:
Making milk teas from HK, Thai, Myanmar, Taiwan and Uighur

・Panel discussion:
Moderator:
 Mr. Jun Hori (Japanese Journalist)
Main Panelists:
 Mr. William Lee (HK resident in Japan) 
 Mr. Myint Swe (President, Federation of Workers Union 
                             of the Burmese Citizen in Japan)
 Mr. Afmet (Vice President, Japan Uyghur Association) 

[Second Session]

・Panel Discussion:
Moderator:
 Prof. Tomoko Ako (Tokyo University)
Speaker:
 Mr. Ted Hui Chi-fung (Former MPs of Hk, now exiled)  
Panelists:
 Ms. Shiori Yamao (House of Representative) 
 Mr. Gen Nakatani (House of Representative)
 Prof. Tooru Kurata (Rikkyo University)
 Prof. Ken Suzuki (Meiji University)
 Ms. Kanae Doi (President, Human Rights Watch Japan)
  
About the Japan NGO Center for International Cooperation (JANIC):
JANIC is a network of civil society organizations (CSOs) promoting to solve global issues. We unite and support over 100 organizations to help eradicate global poverty, inequality and injustice by maximizing strengths of our members. Established in 1987 by leaders of Japanese NGOs, JANIC has provided multiple capacity building trainings to Japanese NGOs, promoted partnerships with private sectors, labor unions and local governments, as well as advocating to the government and international organization on key development issues such as SDGs, human rights-based approaches, development effectiveness, disaster risk reduction, and safety and security of NGOs. JANIC is a steering committee of Asia Development Alliance (ADA) and a member organization of Forus, CIVICUS, CPDE, and A4SD.