NEWS
C20 Representatives Submitted C20's "Policy Pack" to PM Shinzo Abe, Chair of the G20 Osaka Summit
 (from left to right): Valeria Milanes (Argentina), Yuka Iwatsuki (C20 Chair, Japan),  Her Highness Nouf bint Muhammad bin Abdullah al-Saud (Saudi Arabia), Shinzo Abe (Japan's Prime Minister)
Representatives of C20 (Civil 20), consisting of C20 Argentina of 2018, C20 Japan of 2019, and C20 Saudi Arabia of 2020, met with Japan's Prime Minister Shinzo Abe on the morning of 18 April 2019, to submit their Policy Pack at the Prime Minister's Office.
After introducing representatives of C20 to the Prime Minister, Yuka Iwatsuki, C20 Chair and President of Action against Child Exploitation, said, "Over 400 civil society organisations that participated in the compilation of the Policy Pack are expecting the Prime Minister, Chair of G20 in 2019, to reflect the recomendations addressed in the Policy Pack to be discussed in G20 Osaka Summit".
Atsuko Miwa, C20 Co-Chair and Director of Asia-Pacific Human Rights Information Center, introduced the key issues of the Policy Pack and mentioned about the role that G20, whose GDP reach more than 80% of the GDP of the globe, should play in achieving SDGs by 2030. She also stressed that it was time to turn promises into actions and that C20 was willing and ready to work together for globally shared solutions for globally shared problems.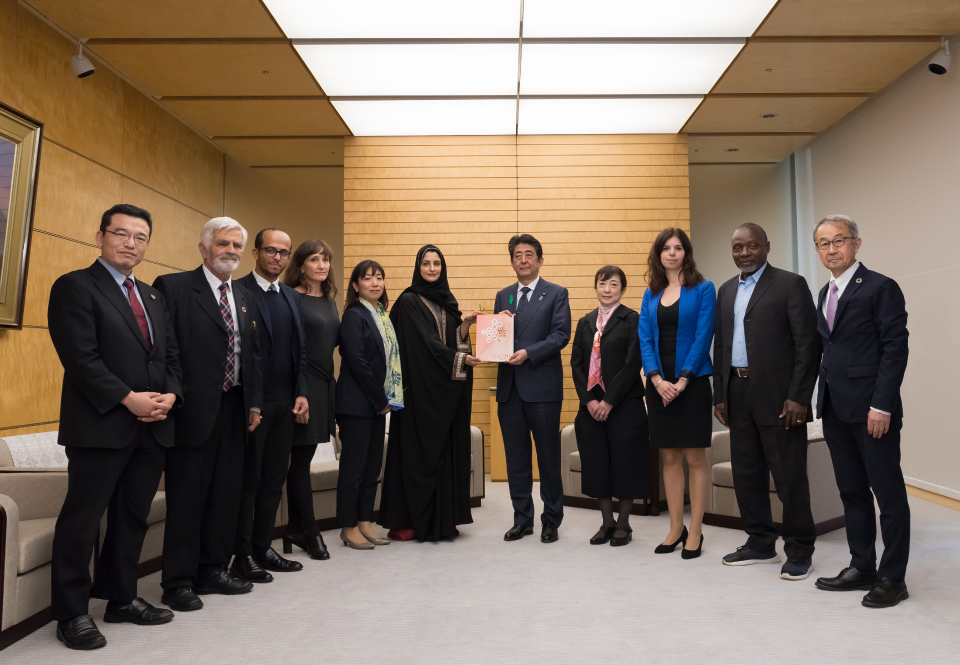 C20 Steering Committee members and coordinators of Working Groups attended the meeting.
Prime Minister Abe commented that the Policy Pack that was handed to him by Her Highness Princess Nouf bint Muhammad bin Abdullah al-Saud of King Khalid Foundation, Saudi Arabia, included important issues that should be discussed in G20 Osaka Summit.
He also mentioned that he shared C20's concerns about the widening gap in the course of the Fourth Industrial Revolution that is taking place under the present globalised economy and  that he intended to lead discussion about free trade and inclusive growth in G20. He added, "Recognising differences of interests that exist among G20 countries, I will strive to work on issues that can be commonly discussed and agreed upon, through the spirit of harmony, to achieve broader objectives".
Japan's Prime Minister Shinzo Abe, second from right, responds to C20's recommendations.
C20 Summit will take place for three days from Sunday, 21 April to Tuesday, 23 April 2019 in Tokyo and nearly 600 participants from all over the globe are expected to join the conference.
Download C20 Policy Pack 2019 here.
Media Coverage (Japanese): 
The Sankei News, 18 April 2019
NHK (Japan's Public Broadcasting Corporation), 18 April 2019
Prime Minister's Office of Japan, 18 April 2019
Ministry of Foreign Affairs in Japan, 18 April 2019
*As of 8:00 a.m. 19 April 2019 (8:00a.m.)
Contact:
C20 Secretariat <c20@civil-20.org>